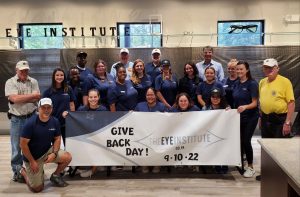 The Eye Institute believes in becoming part of the community. We also know that not every person who needs glasses and an eye exam can afford them. Every fall, TEI hosts a "Give Back" Day. We offer free eye exams and a free pair of glasses to the first 100 people who walk in our door. We've hosted this event at our Knightdale location since 2011, giving away an estimated 900 exams and pairs of glasses. Our most recent event was September 28, 2019. Our team loves to see smiles on people's faces as they put on glasses and see clearly for the first time!
Nominate Someone for our Give Back Program – Any Time of Year
If you know someone who cannot afford an eye exam or glasses, please nominate him or her for a free exam and glasses any time of year. We accept nominations year round and will donate a free exam and pair of glasses once per month, based on justified need, at our discretion.
Fill out the form below and tell us why that person qualifies. If selected, we will reach out to him/her and coordinate an appointment.* We may mention your name to the candidate unless otherwise notified in the essay section.
*TEI cannot guarantee each nominee will receive a free exam or glasses. Those who are chosen will receive a basic eye exam with refraction at one of our three locations.