Contact Lenses
Contacts are a clear, comfortable choice for more than 45 million people in the U.S. Advances in contact lens design and materials have made them easy to wear, more affordable, and viable for most vision correction, including for bifocal wearers.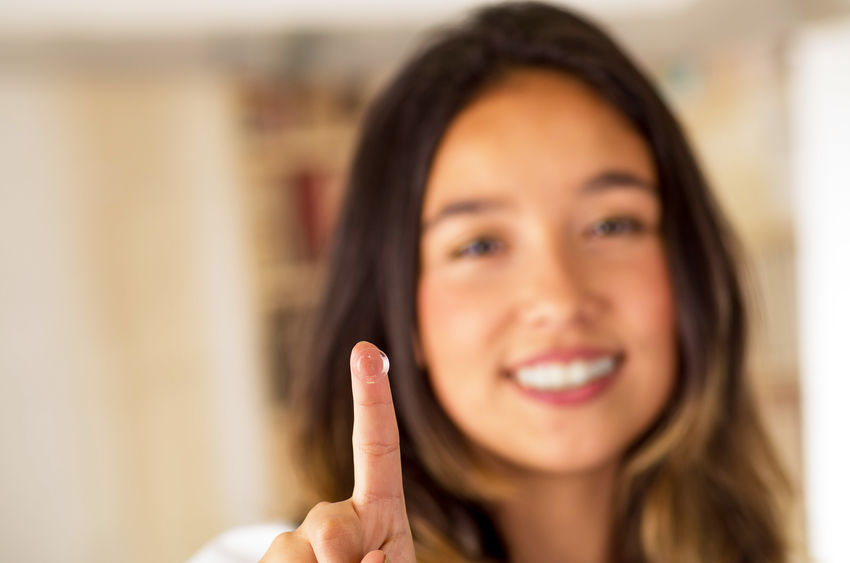 Contact Lens Exams
People often ask about contact lens exams; it is not the same as your regular vision exam. Each year, your optometrist will perform a comprehensive eye examination that evaluates your vision and overall eye health. Following that routine exam, our TEI optometrists will perform additional tests. The eye doctor will evaluate your corneal curvature, the size of your pupil and iris, and assess your tear film — a protective coating of tears that spreads like a film over the front of your eyes. She'll also evaluate lens movement on your eyes, visual acuity and various other tests. One of the most common problems with contact lens wearing is dry eyes, so we need to confirm your tear film is sufficient. Contacts are not one size fits all so a thorough assessment is extremely important.
Contact Lens Options
TEI offers a variety of options, including both hard and soft lenses. Toric lenses work well for most people with astigmatism, and contacts even come with bifocal or multifocal options. Soft lenses provide a variety of wear lengths, including:
Daily wear: Removed nightly, placed back in the eye in the morning. These are the least expensive.
Extended-wear: Worn during the day and while sleeping but removed at least weekly for thorough cleaning and disinfecting.
Disposable-wear: Removed nightly and replaced regularly (daily, weekly, biweekly, monthly). There's nothing healthier than wearing new lenses every, so most of our patients choose daily disposable contacts. These are more convenient but can be more expensive.
Your doctor will help you determine which contact lens type is best for you.
*All sales are final.
New to Contacts? Contact Lens Do's and Don'ts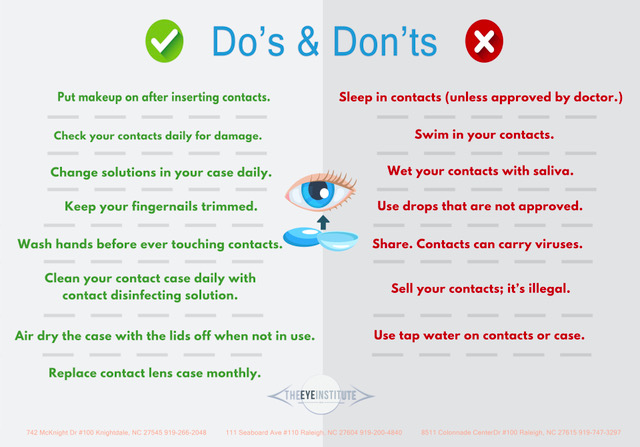 Save When You Buy Contact Lenses Annually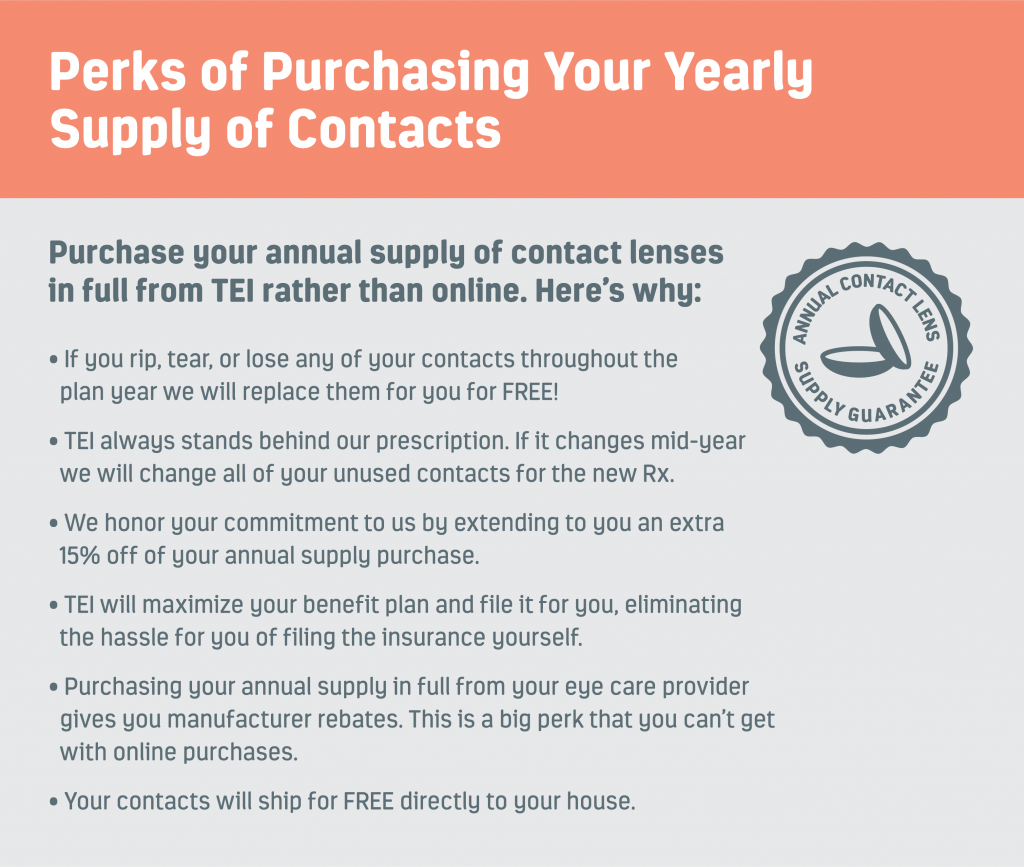 Most of our patients choose to purchase an Annual Supply of contact lenses. Here's why!
When you purchase an Annual Supply, you get the following benefits:
Free shipping to your home or office
Free replacement of lost or torn lenses with most lens types
If you have a prescription change, we'll exchange all unopened boxes of lenses
Also, we offer a 15% discount on all Annual Supply purchases and maximum manufacturer rebates. So an Annual Supply purchase is your best value and best for your eye health.
Back-Up Glasses
All of our doctors recommend Back-Up Glasses for their contact lens patients. You may prefer your contacts, but there are times when your eyes are tired or due to allergies when glasses are an excellent option. Also, removing your contacts at the end of the day allows your corneas to rest. So, for our contact lens patients, on the same day that they purchase their Annual Supply of contact lenses, we offer 50% off your prescription eyeglass lenses. That's 50% off whether you use a current frame or purchase a new frame for your Back-Up Glasses.